Great photos of Brothers and Sisters!
Entries were accepted until August 30, 2004 Winners listed here!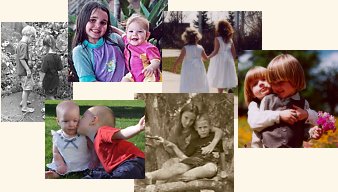 What this contest is all about:
This photo contest is all about siblings and photography. We are looking for creative, clear images that tell a story. So grab your camera, and get that winning snapshot ready! Please do not send us professional photographs.
Photos can be of siblings of any age, but photos including minors must be submitted by the parent or guardian. Please do not submit someone else's photo. You may enter a photo of yourself and your sibling/s as adults, but be sure to ask if it's ok with your sibling/s!
Your photo can be in one of the following formats: .jpg .jpeg .bmp .png or .tiff
At the close of this contest, the winners of this contest will be selected by a panel of judges. There will be a minimum of 5 judges to determine the winning photos.
The top six photos will each randomly receive one of the six prizes listed below.
A gift certificate for a Dress-Me Welcome Bear with outfit of your choice (shipping included)
Courtesy of: Pattibears


Approx. Value: $27.00usd

$20 gift certificate for anything at Busy Bees Diapers
(shipping charges not included.)
Courtesy of: Busy Bees Diapers

Busy Bees offers a wonderful selection of Custom Cloth Diapers, AIO's, diaper bags and the ERGO baby carrier.

Value: $20.00usd

$20.00 gift certificate
(Order choices must be emailed to sponsor in order to receive your $20.00)
Courtesy of: Heidi - Ideal Gifts Rep.

Friendly toys and gifts, Home decor, kitchenware, Wall Decor, holiday items and more!

Value: $20.00usd

Cherry Tote Handbag

- Transparent PVC material with cherry print on all sides
- Black faux leather material with white stitching
- Front fold over snap closure
- Large roomy compartment
- Dual carrying handles
- Tiny metal feet on the bottom for protection
Approximate Size: 11"L x 8"H x 4.5"W
(Shipping & handling is FREE)

Courtesy of: FabFauxFashion

Value: $16.95usd

Any $15.00 Kit of choice from my Website.
(shipping included)
Courtesy of: SusiesScrappers

Perfect way to "power scrapbook". Kits are ideal for the scrapbooker who is short on time. Easy to complete and each kit contains 6 layouts with everything included, even pictures!

Approx. Value: $20.00usd

'Mrs. Rabbit and Family' Art Print (Beatrix Potter) (approx.value $15.99usd) and a magnet of your choice with a value of $4.99usd
Courtesy of: The Parent Site
(ordered and sent from AllPosters.com)

| | |
| --- | --- |
| Mrs. Rabbit and Family | Steve (magnet) |

Approx. Value: $27.00usd
Submission Rules:

This contest is open to residents of the US and Canada.


The photo submitted must be of siblings.


Photos of minors must be submitted by the child's parent or guardian.


Please try and submit a photo that includes only the siblings.


The subjects in the photo can be any age now.


Please keep the photo size under 60K.


The photos submitted to the contest must be free of any copyright, intellectual property, trademark or patent violations and are the sole property of the submitter. Photos taken by professional photographers may be subject to copyright restrictions and cannot be submitted.


Your photo should be in .jpg .jpeg .bmp .png or .tiff format.


All images submitted may be used by The Parent Site in the contest and in other site related projects.


This contest is void where prohibited by law.


If the site is down due to technical problems beyond our control, we will not extend the contest unless otherwise posted on site.


We are not responsible for lost or misdirected entries.


The winners may be listed in our newsletter.


The Parent Site may publish your photo and post your name and/or the subject's names.


The Parent Site reserves the right to make changes to or cancel this contest as necessary(including prizes).


The Parent Site will send an email to the email address supplied with the entry of the winning photos and request a reply.
If we are not able to contact you at the email address submitted,
-or-
if we do not receive a reply from you within 7 days,
your entry will forfeit any standing in the contest and a runner-up will be contacted.


Please allow 4-6 weeks to receive your prize.


All taxes, duty or other such charges are the responsibility of the winner.


This contest is for entertainment purposes only.
By entering our contest, you agree to the stated rules.
Entries were accepted until August 30, 2004 Watch for the winners listed soon!
-- If you have a spam or junk mail filter in place,
be sure to add our email address to your safelist!! --
More questions? Read our FAQ's! (frequently asked questions)
Good Luck!
Please visit the sponsors!