Moments for Mom
February 2002
If I were to ask you to picture your closest friend, does one particular person come to mind? Is it a female??? I would like to share a lesson with you that I am currently working on…our husbands are our friends. Some of you may be thinking, 'Duh? Of course he is…that's why I married him.' But is he really? And if he isn't, why not? Are you possibly the hindrance in the friendship? I read somewhere that you are your husband's best friend. Even if you can't picture that, look around his life – more than likely he is sharing more with you and depending more on you than he is anyone else. For him, you're it! What are you doing on your end to be his friend?
A girlfriend was sharing with me how she noticed that when she talks on the phone with her husband, she was matter-of-fact and curt, even showing disappointment with him. But that when she talked with her girlfriends on the phone, she was lighthearted and kind. I asked my husband a while back what I could do in our marriage for him to be happy. His answer (that cut through my heart and pride), 'be nice to me'. Ouch. Why is it that we forget so quickly that the guy we married – you know, the one we eat with, sleep with, spend with, worship with, have kids with – is actually our friend?
So here is something I am currently working on --- I have resolved to myself just recently that I will share with Kevin first. I'm not just referring to stuff about Kevin or our marriage, but church stuff, friend stuff, things I'm struggling with. If I haven't shared it with Kevin, I won't share it with anyone else.
As far as specific marital problems go – please don't share these with all of your friends. Either seek out counseling if it's serious enough or if you just feel stuck, or find a woman you can trust who can mentor you in your marriage. Don't allow yourself to get together with your girlfriends and husband-bash. It really does no one any good.
So bottom line - ladies, we need to go to our husbands first. Your husband needs to be the most important person in your life. And I don't say this lightly - no matter the state of your marriage relationship. We are called to be wives before and long after our calling to mothering…so please commit with me to make this a priority in your heart and with your time.
© Elisabeth K. Corcoran, 2002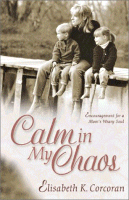 Elisabeth K. Corcoran is the author of Calm in My Chaos: Encouragement for a Mom's Weary Soul. This column is original and not excerpted from her book. You can catch Elisabeth at the National Conference of Hearts at Home in Bloomington, IL this March 15-16. She'll be speaking on "Calm in My Chaos" and "When Life Feels Harder Than You Think It Should Be".
Elisabeth is wife to Kevin and stay-at-home mom to Sara, 5, and Jack, 3. Her passion is encouraging women which she fulfills through heading up the Women's Ministries at Blackberry Creek Community Church in Aurora, IL and writing as much as she can. Her first book, Calm in My Chaos: Encouragement for a Mom's Weary Soul (Kregel), just came out.