Our Baby Name List for Siblings and Multiples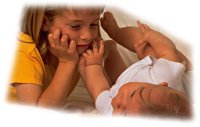 Here are a few suggestions grouped by meanings and sounds. Feel free to submit your suggestions for names that "go" together with the form near the bottom of the page, we could feature them here!
Common meanings
Amber, Ruby, Gemma
gems
Back to Baby Names

Baby Naming Tips
Newspaper Names
Names for siblings and multiples
Baby Name Message Board
Our Baby Name list
Top 50 names for 2002
The most popular GIRLS names for the 90's
The most popular BOYS names for the 90's
Top Ten 1890-2000
Baby Names on the net
Baby Name books
Pregnancy Articles

Pregnancy Forum
Photo Contest
Friends Club
E-Cards
Darlene, Darla, David, Darryl
dear loved one
Evan, Jane, John, Jean, Joanne, Ian, Shane
God is gracious
Evan, John, Sean, Joanna, Joanne, Zane, Ian, Shona, Shane, Jane, Joan, Siobhan
additional names submitted by Joanna.
Andrew, Charles
manly or masculine
Achen, Thomas
a twin
Alan, Alana
harmony
Heather, Hadley
field of Heather
Michaela, Michelle, Michael
'Who is like God?'

Robert, Clarence
bright or bright fame
Gabriel, Gabrielle - Hero of God
Angelica - messenger of God
Larissa, Hilary
cheerful
Marina, Marissa
from the sea
Common sounds
Timothy - honoring god
Kimberley - royal fortress meadow
James - one who supplants
Shortened names can become Tim, Kim and Jim

Kaitlyn - pure
Nathan, Nathaniel - gift of God
Shortened names can become Kate and Nate
Andrew - manly
Andrea - brave, elegant
Amanda - worthy of love
Candace - brilliantly white
Randall - wolf counsellor
Shortened names can become Andy, Mandy, Candy and Randy
Madison - son of the brave soldier
Adeline - noble
Shortened names can become Maddy and Addy
Kenneth - handsome
Benjamin - son of the right hand
Jennifer - white wave, smooth
Leonard - bold lion
Shortened names can become Ken, Ben, Jenn and Len

Barrett - bear strength
Carissa - loving
Laurence - courageous
Harold - army power
Marina - of the sea
Jeremy - appointed by God
Terrence - gracious
Teresa - harvester
Shortened names can become Barry, Carrie, Larry, Harry, Mary, Jerry and Terry
Cheyenne - red people
Tyler - maker of tiles
Shortened names can become Chy and Ty
Submitted by Laurie
Jenee - var of Jennifer, white wave, smooth
Jessi - Grace of God
Jiana -
Submitted by Bianca
Zoe - Free spirit, life
Joey - God will increase
Submitted by Kayley
Donald, Dianne, Deneen, David, Dolores, Darla, Dean, Duane, Dale, Dee
These are the names of my 10 aunts & uncles--all starting with D. My grandparents wanted "The Ten Dees".
Submitted by Charlene
Nicole - bright
Nicolai - famous
Shortened names can become Nikki and Nick
Submitted by Delilah
---
Do you have a unique combination to submit? Use this form to submit it!