Washtub II
Anne Geddes
Matted Print

More Shopping
Toys, Gifts and Games for Babies, Tots and Youngsters
TheParentSite.com Wear and gifts at CafePress
John Lennon Collection
Anne Geddes
The Reading Room for Books
Beautiful Mother's Family Name Bracelets
Cribs, Bassinets and Cradles
Posters and Prints
My Gifts From The Heart
Teddy Bears, Raggedy Ann & Andy
Baby
Books
Maternity
Fertility
Clothing
Gifts, Crafts & Collectables
Birthday & Party Supplies
Health & Beauty
Photography
Music
Magazines
Toys, Games & Learning
Computer & Internet
Kids Stuff
House & Home
Miscellaneous
More Shopping

Message Boards
Parenting
Pregnancy
Contests
Free for Parents
Books
Music
FREE E-Cards
Baby Names
Pregnancy Journals
Birthday Club
Posters
Birth Stories
Due Date Calculator
Family Fun
Shopping
TPSnews
Your Baby Today


The Beaded Name helps you create your own family heirloom.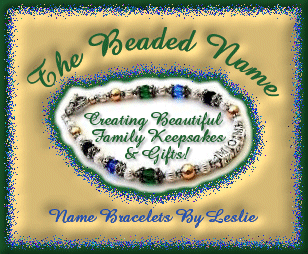 Specializing in Beaded Mother's Name Bracelets
Grandmother's Name Bracelets
Children & Baby ID Bracelets
Custom Birthstone Jewelery
Mother's bracelets are lovingly handcrafted and created with care by Leslie. Each bracelet is made with high-quality sterling silver beads, findings, clasps and either hand-cut Swarovski crystal or hand-selected semiprecious gem beads. Each bracelet is custom designed and sized and has a 30 day warranty. These bracelets are perfect for Mothers, grandmothers, children and even babies. Top quality at a fair price. Order early for Christmas.

Customer Comment:
I ordered a three strand bracelet for my mother for Christmas and it is absolutely gorgeous! I had my three children's names and birthstones used on it and I am sure there will see tears of happiness on Christmas morning!
My Mom said, "Thank You! Thank You For the lovely bracelet. I wear it a lot and enjoy looking at it!"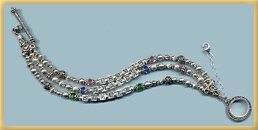 The child's ID bracelet sets I had made for my daughter and her best friend are just so perfect!!
Thanks Leslie! You are incredible!
Kelly,
Mom to Thomas, Amanda and Samuel


Advertise on
The Parent Site
Click here
for information