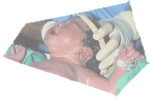 Would you like to share your birth story with us? Feel free to send it in to us for review.
A photo would be really cool, either of you, or the little one, or both.
After submitting the form, you will receive a confirmation email. You may reply to that and attach your image(s).
Please send your story to us with birth story in the subject.
Stories may be published in whole or part. Your name will be published with your story.
**We encourage you to write your story in word or notepad and save it. Then copy and paste your story into the form.