More Pregnancy
Parenting Starts Before Pregnancy
When Money is Tight and Baby's on the Way...
Trimester Timeline
Pregnancy Symptoms
Morning Sickness
Morning Sickness Smoothie
Packing the Bag
Due Date Calculator
Stages of Pregnancy ...For "Moms to be" on the Run!
5% off any purchase! Use coupon code 5CJ (not valid for Bratt Decor products)
Birth Stories
Baby Names
Free For Parents
Send a 'Baby's Coming' Announcement E-Card!
Shopping Mall
Baby Name books
Pregnancy Books
Discover Anne Geddes
More Pregnancy

Shop for
maternity wear
Message Boards
Parenting
Pregnancy
Contests
Free for Parents
Books
Music
FREE E-Cards
Baby Names
Pregnancy Journals
Birthday Club
Posters
Birth Stories
Due Date Calculator
Family Fun
Shopping
TPSnews
Your Baby Today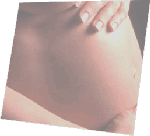 When I first got pregnant I thought very narrow mindedly. I thought I would go to my doctor appointments every week, have a hospital birth and that would be it. Boy, was I wrong. My husband really didn't want me to have a hospital birth because he knew I wouldn't enjoy everyone looking at me, checking me all the time and I would be restrained. So, he decided to persuade me into a homebirth by doing research and telling me about how wonderful a homebirth could be. He threw facts at me like c-sections are on the rise, I wouldn't be able to do what I wanted during delivery (especially since we would have delivered at a military hospital... where it's your way or no way), and I wouldn't have my thoughts and concerns taken into consideration. He also pointed out to me that we had friends that had delivered at this specific hospital and the hospital is now being sued for putting their infants into cardiac arrest. I think that was the final deciding factor that we would do our birth at home, and have it the way we wanted it.
After that, it was all up to the night of delivery. I had been 13 days over due and I was getting cranky and tired of being pregnant. Who wouldn't? Then the afternoon of July 20, 2000 I started to feel braxton hicks contractions. I was hoping that this would be it. So that night when my husband got home we went for a walk around Walmart that took a couple hours and helped the contractions increase. Then when we got home I wanted to go for another walk. I had energy then and I wanted this walking to work and push things along. So after we arrived home I knew this baby was going to come one way or another. We prepared by putting extra sheets on our bed and painter sheets around the bed to catch any blood. At about 10 pm that night the contractions started and about an hour after that the head appeared, yet I was having so much trouble getting our little baby out.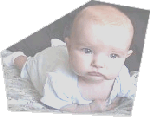 My husband called a near by midwife to ask her what to do after I had been pushing for 4 hours. She said to have me switch positions and squat. Well my husband convinced me to move off the bed and try to get into a squatting position, but as soon as I tried I had one more contraction and our beautiful baby girl came sliding out like on a water slide. I fell back on to the bed so relieved! In all it took 4 1/2 hours and we were blessed with a new baby.
This is such an amazing thing to us that we were able to do a home birth on our own and not have the baby rushed away right away after delivery like in a hospital. We look back on this moment all the time and cannot believe we delivered a child all on our own. It's something we will always be proud of.
©Vanessa
Mommy to Makenzie Jean
7/21/00
Heart and Hands : A Midwifes Guide to Pregnancy and Birth
by Elizabeth Davis

Amazon.com
Elizabeth Davis's Heart and Hands, though subtitled A Midwife's Guide to Pregnancy and Birth, is not just for midwives. It's an excellent and thorough resource for parents-to-be who are thinking about delivering their child with a midwife, or who are concerned about the medical establishment's over-control of birth. (Two previous editions sold more than 100,000 copies and there are nowhere near 100,000 midwives or midwifery students to buy this book, proving that parents-to-be have looked to... read more»

Revised edition (December 1997)
Would you like to tell your birth story here?
Click Here to find out how!


Advertise on
The Parent Site
Click here
for information