Saving Your Child's Leaf Collection
If your children are anything like my four year old son, you might find those beautiful colored leaves clutched in their hands on a regular basis. I, for one, do not like to bring home dirty leaves off the boulevard, and two, the dry up, crumple and Voila! You have a nasty mess in the pocket of the new fall jacket.
I was recently enlightened by my 5 year old nephew, as he explained his most recent craft time excursion, as what to do to preserve these precious memories for your child!
Take a leisurely stroll with your child through the park, or down the street, wherever you might find leaves as they fall in Autumn. Take along a bag and collect some nice leaves. Different sizes, types and shapes make for a nice collection.
When you get home, make a couple toasty cups of hot chocolate and warm up after being out in the cool, crisp autumn air! (This is just a suggestion, it is not necessary for the craft.)
What you will need:
Your leaf collection
Washable glue
Crayons, we used fall colors: red, green, yellow, orange and brown
note: use old, broken ones, they need to be peeled. I found the darker colors worked out best.
Sheets of regular white paper
Paperclips to hold the sheets together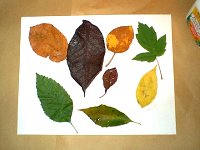 -Lightly glue the leaves on one piece of paper. The glue is basically just to hold them still, so there doesn't need to be a lot of glue, just enough so they won't slide around. you will get the best results if you glue the leaves upside down, so that the veins of the leaves are facing up.
-Give the glue a few minutes to dry (longer if the glue is outside of the leaves), then place another clean sheet of white paper on top of the first one. You may want to hold the edges together with a few paper clips just to keep them from sliding around.
-Then, you can advise your child that the time to color is here!! They do not need to stay in any lines, just color all over the paper with one, two or more colors until the page is all colored. Be sure to have them color with the crayons on their sides so that the outlines of the leaves show up the best.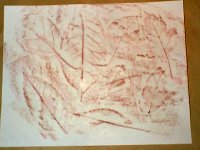 -When your child has finished coloring the masterpiece, pull the paperclips off, and you can use magnets to display it on the fridge, frame it or place it in a scrap book. Be sure to add your child's name and a date to the artwork, so that you will know when it was made and by whom. (These photos here do not really show the definition you can get with this method, but gives the general idea.)
I hope you enjoy this idea. If you do this craft, I would love to display a photo of your child's 'Leaf Collection' here! You can send it to familyfun@theparentsite.com. Please include your child's first name and age.
Send us your favorite Family Activity!
We'd love it if you have a photo we could post too! Just email us your story and the details.