Painting pictures can be messy but Oh So much fun! Here are a few tips to make cleanups easier!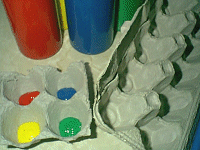 - Use empty egg cartons as little cups for the paint. Cut the bottom into two or three sections and fill each cup with a different color. Use the top half of the carton to hold brushes.
- Use an old shirt for a painting smock. Be sure that it isn't too long. Trim the bottom of the shirt off for those toddlers so they don't trip.
- If you can, get an easel! This, I have found, is the greatest thing going! It keeps the child's painting eye level, the elbows and forearms stay cleaner and they just tend to think it's so COOL!
- If you have a playroom or a rec. room where this is possible, mount a ½ sheet of corkboard on the wall. Tack the paper up for painting. The paint that hits the corkboard will make an interesting conversation piece for visitors!
- Place old newspaper on the floor in the painting area.
- Hang out with your child and paint with them! This keeps more paint on the picture and less all over!
- In the summer, set up the paint station out side.
- Paint right before bath time!
Send us your favorite Family Activity!
We'd love it if you have a photo we could post too! Just send us your story and the details.