Picasa. All you need to enjoy your digital photos - fast, easy, and fun. Download your free trial today!
The digital way to Scrapbook!

More Family Fun
Painted Hand Print Keepsake
Domino Days
A Garden for Children - Any Age
Childhood Games: Games of the Past meet the Present
Pockets Full Of Memories: How to create a pocket page!
Finding the time to scrap
Summer Fun for Kids on the Net
Bubbles Galore!
Got Extra Photos?
Art Safety and Your Child
Craft fun for the whole family
Family time...
Painting pictures
Raking Leaves
Printable Numbers and Alphabet
Saving Your Child's Leaf Collection
Patriotic Crafts For Kids
Marble Painting
Baked Hand Prints
Paper Hats
More Family Fun

Message Boards
Parenting
Pregnancy
Contests
Free for Parents
Books
Music
FREE E-Cards
Baby Names
Pregnancy Journals
Birthday Club
Posters
Birth Stories
Due Date Calculator
Family Fun
Shopping
TPSnews
Your Baby Today


This little turkey is quite simple to make. The cost is minimal and he makes a great table decoration or hostess gift for Thanksgiving dinner!
By Amanda Formaro
http://familycorner.com
You will need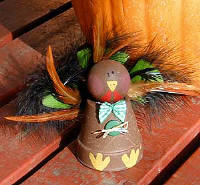 1- 1 1/2" diameter wooden ball
1- 2 1/4" diameter clay pot
3 or 4 feathers
small bowtie or 6 inch length of ribbon
green button
6 inch length of jute or raffia
white craft or hot glue
black finetip marker
small and large paintbrushes
acrylic paints in brown, tan, mustard yellow, red, and rose
clear coat spray
What you do
Body
Place newspaper down on work surface. Turn clay pot over and glue wooden ball to bottom of pot. When glue is dry, use large paint brush to paint entire the outside of the clay pot and the entire wooden ball with brown paint. Let dry and apply a second coat. When dry, use large paint brush to fleck on spots of tan paint for effect. This does not have to be perfect! Using small paint brush, paint on feet and beak, use the photo as a guide if needed.

Head
Use small paintbrush to paint on the gobbler in red. Dab large paintbrush or stencil dotter in rose paint. Dab onto newspaper or paper towel until all excess paint is removed. Gently dab onto "cheeks" of turkey's face. With the black finetip marker, drawn on eyes and dot nostrils onto beak. Spray entire surface with clear coat.

Finishing Touches
Glue miniature bow tie in place, or fashion a simple bow out of ribbon and glue in place. Trim excess to suit your tastes. Tie a piece of jute or raffia through the holes of the green button. Tie a bow and trim excess.Glue button to the body below the bowtie. Glue feathers to the back so that they stick up above the back of the turkey's head.
About the Author:
Amanda Formaro is the entrepreneurial mother of four children. She is also the owner of FamilyCorner.com Magazine at http://familycorner.com where you will find recipes, crafts, family activities, parenting advice, home & garden, and plenty more. Be sure to visit the bustling message board community to make some new friends!
Do you have a favorite "turkey day" craft? Feel free to send it to us and we will post it here for others to use!
Did you do this project? Contact us and we'll respond so you can send us an image.


Advertise on
The Parent Site
Click here
for information