Looking for a perfect Mother's Day or Father's Day gift from your little ones?
Or maybe grandma and grandpa live far away? Here is a simple craft project that is sure to be a hit. There are some printable pages that you can use for this project. You'll find them below (scroll down). You can also use the verse to make it up yourself. Make one of these every year and you can make a scrapbook out of them! Instead of using the verse, you can fill in the side with milestones from that year. What a wonderful way to treasure the growth of your child.
You will need:
» cardstock works best, but you can use regular paper (most printers will handle a lightweight cardstock up to around 110 pounds. Check your printer's manual for information)
» non toxic paint
» pens, pencils, markers, glue, sparkles or whatever else you can think of to embellish it and make it your own!
1. Print out one of the images below to use for this project, or use a blank page that you will decorate yourself.
2. Using non toxic paint (poster paints work well), paint your child's hand and place it gently on the page being very careful not to wiggle too much!
3. Be sure to add a name and date to your masterpiece.
4. Decorate, embellish or display! It's all up to you and your style and imagination!
Thanks for sharing Pinkgirl!
"This is a project that the Junior Kindergarten class did as a Father's Day project, but could be used for any occasion or even just as a child's hand print record!! Just thought I'd share it."
submitted by: Pinkgirl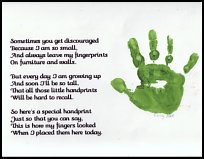 Click on any image below to preview in a new window. Select print from the file menu or press Ctrl-P to print for use.
Using Kidprint
Using Signature for title
and Trebuchet MS for text
Any
Occasion
Father's
Day
Mother's
Day
Sometimes you get discouraged
Because I am so small,
And always leave my fingerprints
On furniture and walls.

But every day I am growing up
And soon I'll be so tall,
That all those little handprints
Will be hard to recall.

So here's a special handprint
Just so that you can say,
This is how my fingers looked
When I placed them here today.

unknown
More Ideas:
Use black or dark blue paper and light colored paint. A white pencil crayon will work for text.
Do you have an original verse or poem that could be used for a project like this? Feel free to send it to us and we will post it here for others to use!
Did you do this project? Contact us and we'll respond so you can send us an image.